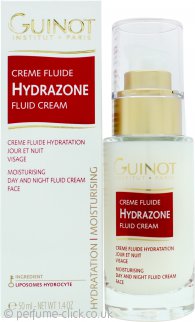 Guinot Crème Fluide Hydrazone Day & Night Face Cream 50ml
Guinot Creme is a moisturising skincare range to rehydrate and rejuvenate your skin.

If your skin is dehydrated and in need of soothing and protecting, the Guinot moisturiser range includes face cream, eye cream, night cream and more, to offer a selection of skincare products to suit your needs. From a thirst-quenching performance to UV protection, these skincare products use the latest techniques for a high-quality salon finish.
Free parcel tracking is included with all delivery options. The estimated delivery date for your order will be shown on the Shopping Basket page and your Order Confirmation Email.
Country
Standard Delivery (Collection also available)
£2.95
United Kingdom
Orders over £50.00 : FREE
Tracked Delivery (1 - 3 days)
Tracked Delivery for collection at your chosen Post Office
Express Delivery (Collection also available)
£3.95
United Kingdom
Orders over £50.00 : £1.95
Tracked Delivery, normally in 1 working day
Tracked Delivery, normally in 1 working day for collection at your chosen Post Office
Tracked Delivery on your selected day
Standard Delivery
£5.95
Republic of Ireland
Delivery within 3-5 working days
Special Delivery
£8.95
United Kingdom
Orders over £50.00 : £6.95
Guaranteed delivery by 1pm on the next working day
Guinot
Guinot Crème Fluide Hydrazone Day & Night Face Cream 50ml
RRP : £53.76
Sale Price :
Express Delivery Available