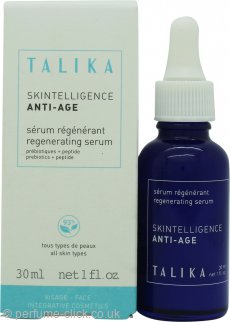 Talika Skintelligence Anti-Age Regenerating Face Serum 30ml
Face & Body Care by Talika. Take care of your face & body with Talika! Hide fine lines in your face with their instant filler products, get flawless and glowing skin!
Free parcel tracking is included with all delivery options. The estimated delivery date for your order will be shown on the Shopping Basket page and your Order Confirmation Email.
Country
Standard Delivery (Collection also available)
£2.95
United Kingdom
Orders over £50.00 : FREE
Tracked Delivery (1 - 3 days)
Tracked Delivery for collection at your chosen Post Office
Express Delivery (Collection also available)
£3.95
United Kingdom
Orders over £50.00 : £1.95
Tracked Delivery, normally in 1 working day
Tracked Delivery, normally in 1 working day for collection at your chosen Post Office
Tracked Delivery on your selected day
Standard Delivery
£5.95
Republic of Ireland
Delivery within 3-5 working days
Special Delivery
£8.95
United Kingdom
Orders over £50.00 : £6.95
Guaranteed delivery by 1pm on the next working day
Talika
Talika Skintelligence Anti-Age Regenerating Face Serum 30ml
RRP : £34.80
Sale Price :
Express Delivery Available